Posted by Gorilla Vapes on Feb 14th 2018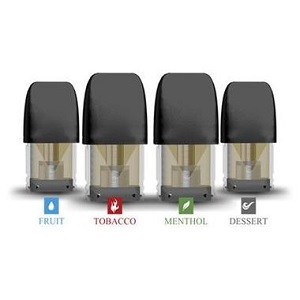 There's a new trend in vaping! Pod systems with juices made with SALT nicotine are taking off and becoming extremely popular in most vape shops, and now in several convenient stores. The two types of pod systems are closed-pod devices (which are sealed, pre-filled by the manufacturer like Juul and Juno) and refillable pod systems like the Sourin Drop. These devices were designed to be more convenient, discreet, with high-nicotine output for the user. But what about the safety and health concerns? And are they cost effective? Let's dive in and decide for ourselves.
What is Salt Nicotine?
Salt Nicotine is a form of highly concentrated nicotine formulated to give the user a more cigarette like inhale, while giving a "nicotine rush", working well for smaller, less powerful devices. Many of the salt-nicotine manufacturers claim that the bioavailability (how quickly it gets in your system) is higher than that of traditional nicotine.
While it is perfect for small devices, the concentration of salt-nicotine is extremely potent and can cause a stronger dependency on nicotine.
Many people who have just started vaping see salt-nicotine and pod systems as a smooth transition from cigarettes. These products can certainly be more effective for users who don't want to fill their own tanks or carry bulkier devices.
Switching From Smoking To Vaping
In most opinions, vaping was created to provide a safer alternative to smoking conventional cigarettes. Several studies show that vaping is a much safer alternative to smoking. Most vapers we encounter have inspirational testimonials on how much healthier they feel since "the switch" from cigarettes. This is partly because of the lack of carcinogens being produced and partly because most e-liquids contain only four ingredients (VG, PG, Flavoring, and Nicotine if any). Since the advent of salt-nicotine, manufactures have discovered that adding additional chemicals like Benzoic Acid can "enhance" the users experience by making the bioavailability stronger. Salt Nicotine absorbs into the blood stream faster but lasts a shorter amount of time. It may be a more efficient nicotine delivery system but can take users away from the end goal of quitting nicotine and introduces more untested ingredients into the user's bodily systems.
Recent statistics show those who use these devices as primary vaping devices rarely lower their nicotine levels. Although there may be exceptions, this means that these devices may actually be contributing to advance one's nicotine addiction.
Another reason for switching from traditional cigarettes to vaping was the costs associated, especially long-term. Since vaping began, the average user has seen their costs decrease when making the switch from cigarettes to vapes. However, the average pre-filled pod cartridge can cost up to 10 times as much per ml of e-liquid.
Gorilla Vapes Is Here To Help
Since Gorilla Vapes has been established, we have taken the stance that although new users may want to start with a nicotine level that satisfies their nicotine craving, we recommend trying to lower nicotine levels as time goes on. Pod-systems with high-level nicotine salts are likely to keep the user dependent on nicotine for longer.
In the end, vapers are going to do what is best for them. It looks like the market and availability for salt-based nicotine pod-systems will continue to grow. For some users, its exactly what they were waiting for. For others, it could be the Trojan horse of vaping.