Posted by Gorilla Vapes on Jan 29th 2018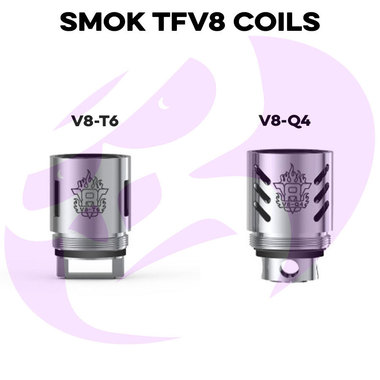 Replacing your SMOK coils is a vital part of maintaining your vape equipment and maximizing your overall vaping experience. Take care of your equipment to get an exceptional vapor and flavor with every vape.
Whether you're looking to replace your SMOK coils, Crown coils, for Joyetech coils, we recommend that you change your coil head about every 2 weeks, sooner if you're a frequent vaper.
Choosing the Best Replacement Coil Head
With so many great atomizer coils on the market today, it can feel challenging to narrow them down to the best. As one of our most popular brands, SMOK coils are designed to deliver exceptional flavor and vapor.
SMOK Replacement Coils
Smoktech, the manufacturer of Smok products like Smok Starter Kits or Baby Beast Coils, is one of the leaders in the industry by providing many different options of Smok Starter Kits, Mods, Tanks and a huge variety of Smok Coils.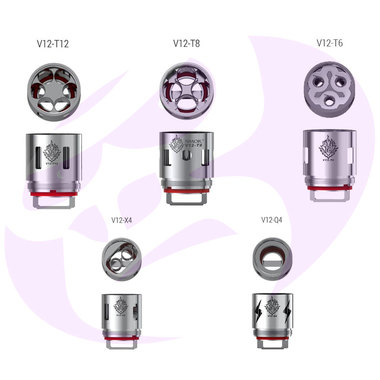 Smok TFV8 Replacement Atomizer Coils
The V8-T6 features a sextuple coil design measuring 0.2 ohms and is rated between 50 to 240W. The V8-Q4 has an output range of 50 to 180W, providing an excellent middle ground of premiere flavor and vapor.
The SMOK TFV12 V12 Replacement Coil Pack brings the world class and industry leading coil designs implemented in the TFV8 series to another level, with V12 versions of the popular X4 and Q4 coils range of 60 to 220W and 60 to 190W, respectively.
Take Care of Your SMOK Coils
Extend the lifespan of your SMOK coils by keeping them clean. Get the gunk off with a microfiber cloth or a cotton ball to prevent residue from clogging up your coils.
As a side note, it's not just the coils that should be cleaned regularly. Also clean the whole device at least twice a month. Again, if you vape often, your vaping equipment will require a more frequent cleaning schedule. This will prevent debris from building up inside the device.
Ohms Resistance Options
It's important to purchase the right coil replacement head for your specific tank, but when it comes to resistance, that becomes more of a personal preference.
Coils are measured in resistance, or ohm's, and different types of coils will provide different vaping experiences. Two general types of vaping experiences are MTL (mouth to lung) or DTL (direct to lung).
Most replacement coils come in a variety of resistance. Ohms simply refers to the amount of current the coils will allow to pass through. Many vapers start by using coils that read at 1 ohm or higher. Common coils read between .15 - 2.5 ohms. Sub-ohm vaping (below 1 ohm), on the other hand, tends to be popular with more experienced vapers as it produces bigger plumes of vapor and more intense clouds.
Too much resistance could result in flooding - if the coil doesn't get hot enough to burn off the e-juice, it will end up gurgling and leaking.
Too little resistance could result in a bad, burnt flavor (never fun), damage to the coils and notorious dry hits.
To find your ideal Ohm resistance, try this quick tip: Take your preferred voltage and divide it by two to get your ohm resistance.
Find SMOK Coils at Gorilla Vapes
Just like smokers, there are many different types of vapors and variables that can determine the "type" of vape or e-cig that will work for each user. Users who want to try a variety of different methods might want to try devices or manufacturers that offer many coil options. This is where having a good vapor shop will come in handy.
If you have any questions about SMOK coils or other vaping accessories, don't hesitate to reach out; we are here with you every step of the way with award-winning support. Visit one of our many locations on the East Coast to experience the vaping community first-hand.
At Gorilla Vapes, we stand by our quality. 100% satisfaction, no questions asked.
Related blogs for Vaping for beginners that we think you'll like:
● TSA Guidelines for Traveling with E-cigs and E-liquid