Posted by Gorilla Vapes on Feb 22nd 2018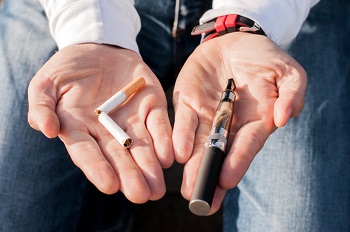 If you're ready to stop smoking and haven't yet found a method that sticks, listen up. A recent survey of vapers found the majority started smoking e-cigarettes to help them quit smoking.
Vaping Cited as Main Reason Many Stop Smoking, According to New Study
The results, published in the International Journal of Environmental Research and Public Health, found the main reason many tried vaping was to reduce or stop smoking. Most study participants said they had completely switched from smoking to vaping and while some newer vapers still smoked, they were still cutting down on conventional cigarettes use.
Several surveys of vapers have been conducted internationally to determine the characteristics of vapers, types of e-cigs, the strength of nicotine and flavors people were using and why, how long people vaped over time, if they had previously smoked tobacco, and if they had stopped or not. This particular New Zealand study adds to the growing international evidence suggesting that vaping is less addictive than smoking.
Vaping Marketed as a Way to Stop Smoking
Smoking e-cigarettes are often seen as a less dangerous alternative to tobacco, and vaping devices are sometimes marketed as a way to help smokers kick the habit.
Another study, published by the National Academies of Sciences, Engineering, and Medicine found that e-cigarettes can help adult smokers stop smoking offering adults an opportunity to reduce smoking-related illnesses.
The congressionally mandated study suggested that e-cigarettes are less harmful than conventional ones, but the researchers would not state they are without risks.
"E-cigarettes themselves, and their components, are significantly less toxic than combustible cigarettes," says David Eaton, the dean and vice provost of the graduate school at the University of Washington, Seattle, and head of the committee in charge of the report.
Vaping less harmful to lung fluids than smoking, study shows
A new study from Ohio University shows that e-cigarettes may be less harmful than conventional cigarettes.
Researchers found that burning tar, an ingredient found in conventional cigarettes, was specifically damaging for the pulmonary surfactant, but that particles in e-cigarette vapor do not affect the normal functioning of surfactant because e-cigarettes involve vaporization, not burning. On the other hand, conventional cigarettes significantly inhibited the ability of the surfactant to reduce surface tension.
The study, titled "Electronic cigarette vapor alters the lateral structure but not tensiometric properties of calf lung surfactant," was first published in Respiratory Research journal.
Ready to Stop Smoking? Talk with a Gorilla Vapes Expert
For those ready to break the habit and stop smoking, you probably have a lot of questions. Visit one of our 13 locations on the East Coast to talk with one of our knowledgeable e-cigarette experts and experience the vaping community first-hand.
At Gorilla Vapes, we stand by our quality. 100% satisfaction, no questions asked.
Related vaping blogs that we think you'll like:
● Vapor Shops: How to Find One You Can Trust
● New FDA Vaping Regulations: What Vapers Need to Know
● Vaping For Beginners: What You Need to Know